Fireplaces
It's not just about the heat – there's nothing quite like a fireplace to change the look, mood and feel of a room.
Fires and fireplaces are really back in vogue. Take a look at our latest range and you'll see why. The days of the seventies-style electric fire are long gone. Today's models are sleek, beautifully designed and built with long-term use in mind. They're features in their own right – as much a part of your home décor as the sofa or the kitchen table – and just as personal.
Pop in to our showroom in the Waterwells Business Park, Gloucester and see for yourself. AT MDJ, we've built our reputation on our electrical expertise. And over the years, we've amassed just as much expertise (and a great eye) for electrical fires…
Re-light your fire!
Looking for the most economical model?
The most easily child-proofed model?
This year's hottest style?
We can talk you through all the options…
We've got fireplaces and surrounds too. And there are just as many options for you to consider: contemporary and modern designs; minimal and ornate.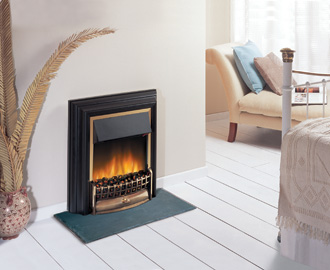 Home and hearth
You can almost see the moment when it happens… That split second when a customer comes through the door, sees a fire and falls in love all over again. We've rekindled that love of home and heart in so many people. And they'll tell us it's because today's fires are so very different from what they were expecting.
Today's models are stylish and sophisticated. They're sleek and economical – they're focal points. And they come in designs to suit so many very different kinds of setting. Whether you're looking to redesign your room around a new fire, or slot one seamlessly into place, you'll find your inspiration at MDJ.
Talk to our experts
If you're choosing a fire for the first time, or upgrading to a newer model, put us to the test. Of course we know our own range inside and out, but we keep up-to-date with all the latest trends and developments too. So you can ask us about:
The manufacturers
Energy efficiency ratings
Heat output
Installation requirements
Safety
We'll answer all your questions and help you choose the fire that fits all your requirements.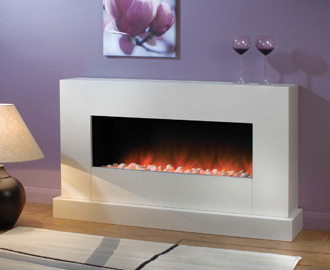 Complete care from MDJ Fireplaces
If you're looking for a little additional help with installation, just ask. While many of our models are free standing – just put them in place, switch on and enjoy – others are designed to be installed. We can help with fireplaces and surrounds too.
Maybe you need some help with an existing fire? If you're looking for a little peace of mind, give us a call. We'll come out and take a look at it for you. We offer an EXOR accredited electrical service so we'll ensure it is operating safely.
A warm welcome at MDJ
So, whether you're replacing an old fire, re-introducing a fire to your home, or investing in one for the first time, come and pay us a visit. Our expertise, our range and our dedication to helping you choose the perfect model for your home, budget and décor is second to none.
Give us a call; come and see us, and get ready to bask in the glow of our warm and welcoming showroom in Waterwells Business Park.