Installation
Electric fires, gas fires and fireplaces are a stylish addition to any room, but they need to be fitted carefully and by a professional in order to be safe and effective. Our expert installation team will make sure you have your new fire up and running as quickly as possible without any hassle.
Electric fire installation
In some cases with an electric fire you can just plug it in and you're away. If you have any concerns at all about issues such as affixing safety brackets for free-standing fires, just give us a call and we'll set everything up for you. We can also help with wall-mounted electrical fires.
It's never worth taking any chances with electrical safety and if installing your fire requires anything more than simple plugging it in, it's best left to the professionals. Of course, we'll advise you on exactly what's required for each of the fires that we sell.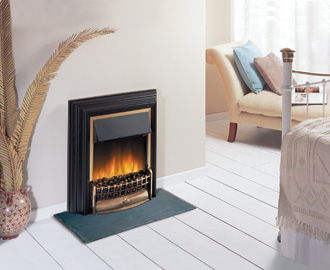 Gas fire installation
Your gas fire must be installed by a qualified gas-fitter. We only use gas professionals who are on the Gas Safe Register – it isn't safe to use anyone who isn't on this register and it's actually illegal for them to carry out the work. They could be putting the health of you and your loved ones at risk by doing so.
Fireplace installation
Our skilled team can install your fireplace quickly and with the minimum of disruption to you and your family or staff. We work to the highest standards and we won't leave any mess behind for you when we've finished working – just a beautiful and welcoming fireplace for you to enjoy.
If you'd like an electric fire or a gas fire installed, please get in touch.